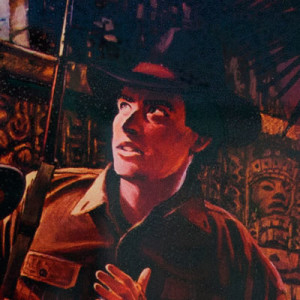 Back in 1982 while living on Des Plaines Avenue in Forest Park, Lee worked at D. Gottlieb & Co, one of the original pinball companies and the company which introduced the concept of the flipper to pinball. In the early '80s Gottlieb had jumped on the video-game bandwagon and Lee, an avid gamer, was hired as the video artist. This was in the day when processing power and memory was so puny that one artist could easily produce graphics for a stable of programmers. One day Lee came up with the concept of large-nosed, armless critter hopping around a pyramid of cubes and by happy serendipity a classic of the Golden Age of Arcade Video was born, "Q*Bert". If you were a kid in 1983 you may remember Q*Bert or maybe you saw him and his frenemies in Disney's "Wreck-It Ralph" last year.
Anyhow, a couple of years ago, Lee caught the bug to paint and has been cranking out batches of little paintings since. Most are small and some are going in unusual directions, but all are hand-produced here in the U.S. of A. Some are painted on salvaged materials and most of the frames are re-sawn timber and cut-offs. Try one on today for size. It's never too late to become an art patron. With even a minimal amount of care, a painting can last several lifetimes. It's the best cultural value for your buck and guilt-free!
You can see nine of Lee's Oak Park murals in various locations along North and South Blvds, "The Birth of Cool", "Sizzling", "Mother & Child Reunion", "Circles of Fifths", "Not In My Surveillance State" and the 4-panel "Seasonal Fun".  Also, the rapidly deteriorating unauthorized tiny "Look! Sit, Rat. Art Is Kool", based on a rodent encounter while painting "The Birth of Cool".