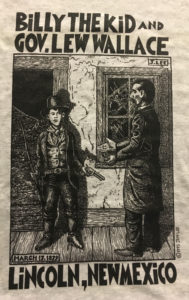 The famous meeting between the outlaw and the author of "Ben-Hur" took place at Squire Wilson's house, which no longer stands.  Becky at one time owned the property and she re-habbed Wilson's office into a charming home.  On the back of the shirt, produced in 1993, is a reproduction of one of Bonney's several letters to Wallace, confirming a statement we saw on a competing Billy the Kid t-shirt during the 2016 Pageant: "He had very good handwriting"
This from Wikipedia:
Wallace arrived in Santa Fe, on September 29, 1878, to begin his service as governor of the New Mexico Territory during a time of lawless violence and political corruption.[98] Wallace was involved in efforts to resolve New Mexico's Lincoln County War, a contentious and violent disagreement among the county's residents, and tried to end a series of Apache raids on territorial settlers.[99] In 1880, while living at the Palace of the Governors in Santa Fe, Wallace also completed the manuscript for Ben Hur.[100]
On March 1, 1879, after previous efforts to restore order in Lincoln County had failed, Wallace ordered the arrest of those responsible for local killings.[101] One of the outlaws was William Henry McCarty, Jr. (alias William H. Bonney), better known as Billy the Kid.[102] On March 17, 1879, Wallace secretly met with the Kid, who had witnessed the murder of a Lincoln County lawyer named Chapman. Wallace wanted the Kid to testify in the trial of Chapman's accused murderers, but the Kid had killed others and wanted Wallace's protection from the outlaw gang and amnesty for his crimes. During their meeting, the pair arranged for the Kid to become an informant in exchange for a full pardon of his previous crimes. Wallace supposedly assured the Kid that he would be "scot free with a pardon in your pocket for all your misdeeds."[103] On March 20, the Kid agreed to testify against others involved in Chapman's murder. Wallace arranged for the Kid's arrest and detention in a local jail to assure his safety.[104] After the Kid testified in court on April 14, the local district attorney revoked Wallace's bargain and refused to set the outlaw free.[1] The Kid escaped from jail and returned to his criminal ways, which included killing additional men. The Kid was shot and killed on July 14, 1881 by Sheriff Pat Garrett, who had been appointed by local ranching interests who had tired of his rustling their herds. In the meantime, Wallace had resigned from his duties as territorial governor on March 9, 1881, and was waiting for a new political appointment.[105]
On December 31, 2010, on his last day in office, then-Governor Bill Richardson of New Mexico declined a pardon request from supporters of the Kid, citing a "lack of conclusiveness and the historical ambiguity" over Wallace's promise of amnesty. Descendants of Wallace and Garrett were among those who opposed the pardon.[106]
https://en.wikipedia.org/wiki/Lew_Wallace